Cold dark evenings are here and a blanket of calm, white snow has settled in.
Winnipeg winters are long and with the possibility of COVID-19 restrictions sticking around for some time, we know a lot of people are going to feel cooped up.
While at home on lockdown we were pondering how we were going to keep ourselves and our families safe, sane and active this winter. We started to brainstorm projects we could accomplish this winter that combine our skills in landscaping with cool-weather activities we love to do. As Canadians, hockey and ice-skating are pretty much no-brainer activities to fill the long winter months and so we thought: "wouldn't it be incredible to step out into your backyard and be at a skating rink?"
Byron got to work after some research and pressure from excited kids. After the frame was built, we had to wait for more consistently cold temperatures before we could build up a smooth surface of ice — this was the first winter you'd have caught us wishing for more frigid temperatures! With the mercury recently returning to seasonal norms, we were able to finish the project and enjoy the fruits of our labour. Check out the magical atmosphere a little lighting can add!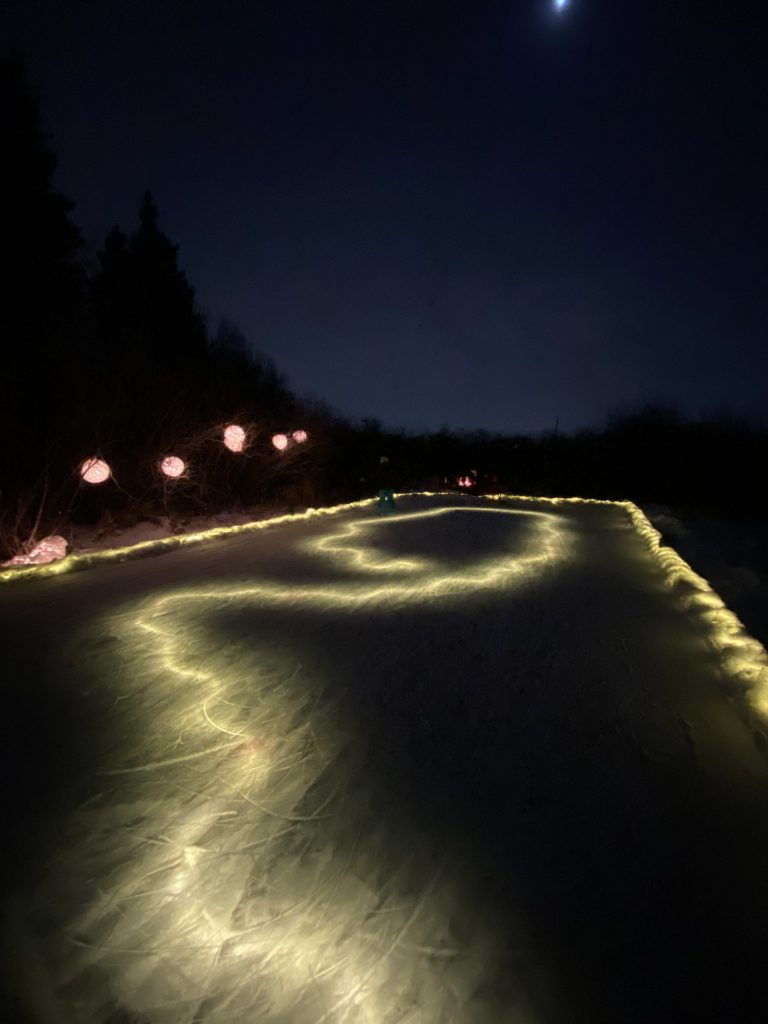 Right now we see a great need for fun activities you can do without leaving your bubble, so we thought we would add 'backyard ice rinks' to our growing list of services. We can build you a custom backyard skating rink of any size up to 25'x55'. Backyard rink installation would take one day to complete at an estimated cost of $3.75-$4-6/ Sq ft. We can also put lights into the ice or string lights across the top of your backyard rink depending on the location of trees at an extra cost.
If you're in Winnipeg or the surrounding area, get in touch with us for a free consultation to have a custom backyard skating rink built by our skilled team of landscape designers.
To make the best of this time spent at home, we want to help you create a backyard space for recreation and relaxation; your own winter wonderland.