If you missed it, Luxurious Outdoor Living Part 1 can be found here.
The following season, our crew began construction on the front yard.
The old, curved driveway was broken out and a new, stamped concrete drive was installed by Square Prairie. The colouring matches the new exterior of the house, and the front doors became more of a focal point. Expansion cuts were made in the driveway to allow the concrete to move, preventing cracking with seasonal change.
The pillars along the driveway were constructed from Kodah retaining wall block, a newer product from Barkman Concrete. LED lights were installed on top of the pillars to illuminate the driveway at night. The lights are enclosed in cedar-framed frosted glass, and Tyndall capstones (from Gillis Quarry) were used to match the light colour of the Kodah bricks.
A key element in modern design is a clean, straight horizontal plane. To maintain this line on a sloped driveway, the outermost pillars were built taller than the others. A custom, cedar address sign was installed along one of the pillars, with lighting to increase visibility.
The front steps were clad in Sandstone (a J&D Penner exclusive), and are flanked by Expocrete retaining walls. Cedar privacy screens replaced an old fence along the south property line.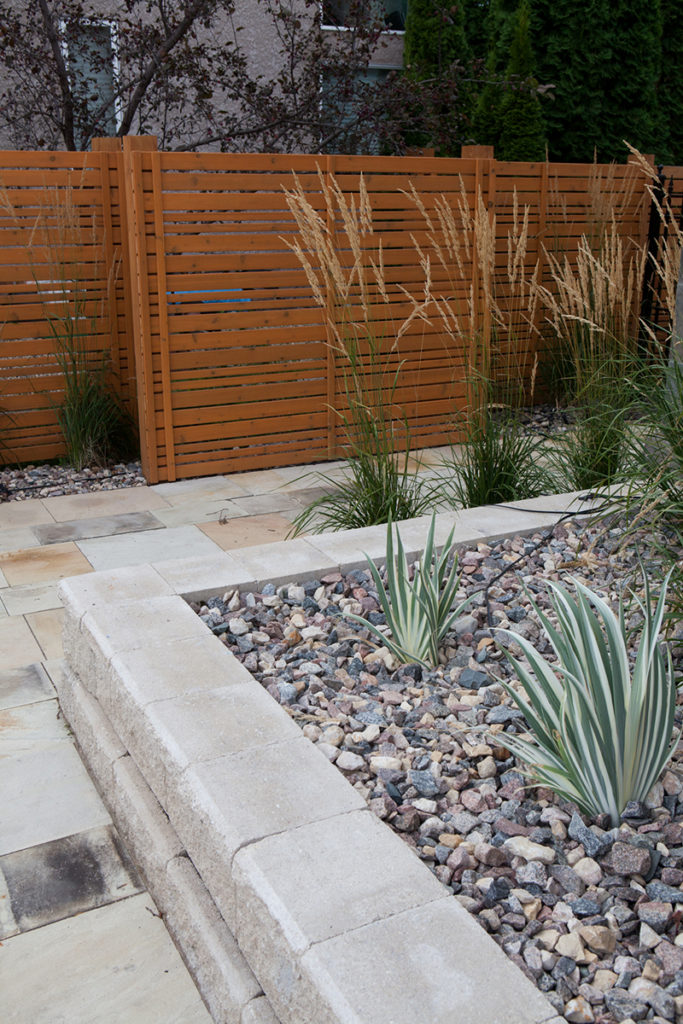 This yard was designed to be relatively low-maintenance. The large rock gardens were filled with materials from Reimer Soils and Gauthier Soils. The foliage planted includes Karl Foerster, Russian Sage, Barberry, Miscanthus, Iris, Virginia Creeper, and Dakota Pinnacle Birch. All of these plants require minimal upkeep to thrive, and provide a changing, colourful backdrop throughout the seasons.
This project exemplifies the importance of designing and planning out your project before putting shovels in the ground; by communicating effectively with the other contractors involved in the renovation, we were able to complete the project in several phases, avoiding costly reworks and bottlenecks. Finishing a build on time and under budget always feels good!