This project began with a client who wanted a complete redesign of their outdated backyard. They had very unique ideas, and we helped turn them into reality. Our challenge was to create a private, low-maintenance yard, while preserving the natural look and feel of the prairie landscape.
There are many custom design elements in this project. These include:
Cedar fencing

Privacy screen

Deck

Pergola
Our client wanted to maximize privacy, so the fencing was designed using the tongue-and-groove method, which prevents gaps from forming between the boards as the wood expands and contracts over time. The cedar fence was left untreated to keep its texture, colour, and allow it to weather naturally. The same construction methods were utilized for the privacy screening that surrounds the hot tub.
The deck and pergola really add to the "wow" factor of the design. The cedar deck is three feet high with corten steel panel skirting. The structure has an engineer-approved foundation to bear the weight of the hot tub, as well as the pergola and privacy screens. The privacy screen on the deck has an opening with a custom, foldable track system for the hot tub cover. This way, the client can remove and store the cover out of sight with ease!
The cedar deck has built-in steps to maximize the size of the ground-level patio, with room to accommodate our client's BBQ.
The pergola is a unique design that is over 40' long. It is supported by 6" steel I-beams that are anchored 10' into the ground. The steel beams of the pergola, as well as the corten steel skirting, will be allowed to oxidize and rust to create a weathered look. The fir beams were also left untreated to compliment the other materials, and are seamlessly bolted into the I-beams for extra stability.
This style of pergola required much planning before we could even begin construction. Between the initial planning phase and the final installation, 7 different specialized trades were employed.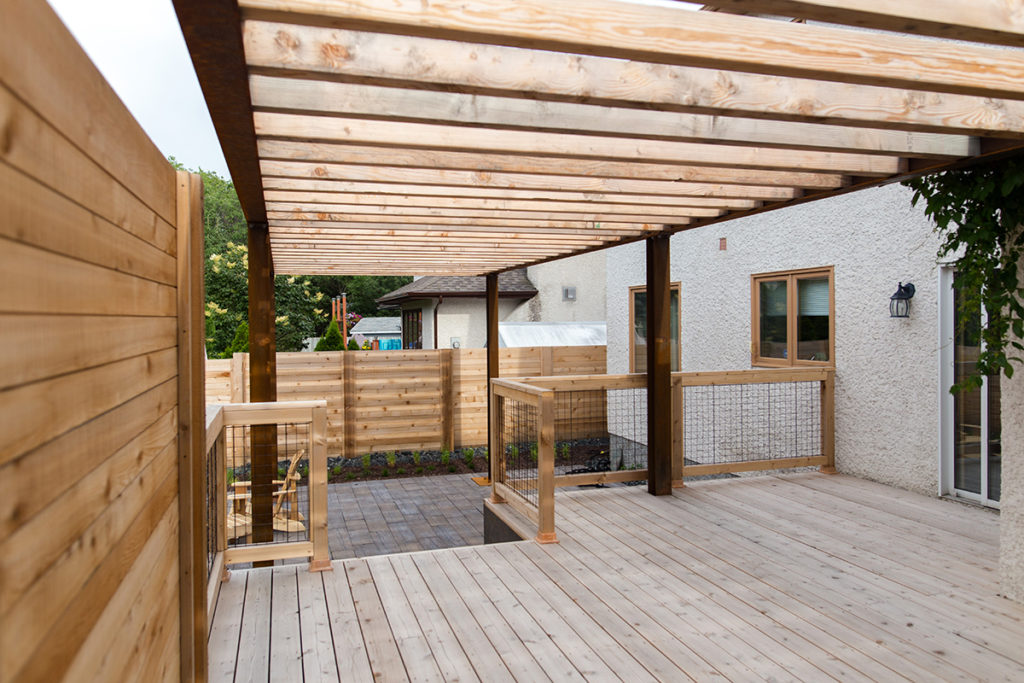 Be sure to check out the rest of the yard in Private Sanctuary Part 2!