Studio b designed this beautiful backyard in St. Andrews, Manitoba. The space has a western exposure, and our client requested a design that provides some shade from the afternoon sun.
Design elements for this project include:
– Patio
– Deck with pergola
– Berm with natural boulder retaining wall
– Retaining wall with built-in bench
– Gazebo
The project was managed by Douglas Hobson. Key suppliers were Barkman Concrete, Expocrete, Reimer Soils, and Aubin Nurseries.
This design is divided into patio and deck areas. The patio was constructed first, and is backed by a berm featuring plenty of shrubs and trees for increased shade. Black granite boulders were used to create a natural-looking retaining wall; boulders are highly durable and show little to no signs of shifting or weathering over time. The wall was continued using the Allan Block Europa Series. The patio also features a custom, built-in bench, as well as a fire pit.
The wooden deck was built next, and includes a BBQ station, dining area, and pergola. The pergola has built-in post lighting covered with frosted glass, and is capable of supporting a shade sail overhead. Finally, the gazebo was constructed on the patio, and enclosed with screened windows.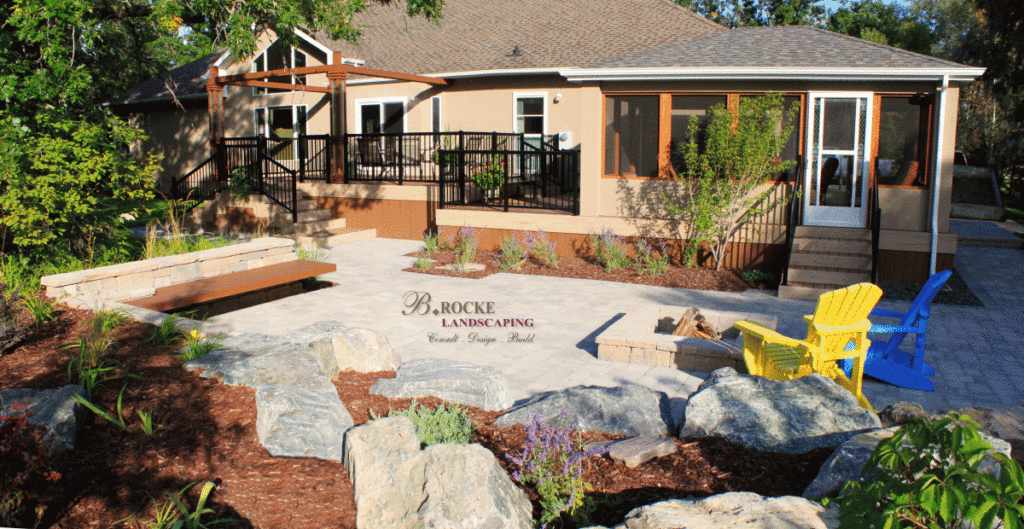 After the backyard was completed, we also cladded the existing front steps and constructed some elaborate planters to beautify the entryway.
We were very happy to be able to provide our client with a beautiful and comfortable outdoor living space!